St. Peter's Luthern Church Loganville WI
To assist in projecting and providing a loving platform to discover ways to "Go forth, making disciples of Jesus"
To accomplish loving through learning and learning through loving by inclusiveness and Christian role modeling.
The Brotherhood is divided into 4 groups, with names that mirror WELCA: Faith, Shalom, Peace, and Freedom, with leaders and assistant leaders for each.
Our current core of Brotherhood officers includes, a secretary/treasurer, a vice president and a president.
You do not have to be elder, old or ancient to be a member of the Brotherhood. All baptized male members are automatically members of the Brotherhood.
The Brotherhood has been successfully involved in many fund raising and service projects in past years and decades, including, Farm Stress/Suicide seminars, the yearly parade float, garage sales, God'sGoodness Auction, game feed and show, LUAD and researching other ways by which we can help provide financial support for the various functions of the church.
Past activities have included, dart ball games, flood relief, wood cutting, valentine dinners, Brewer games, Mallard games, box lunch sales, and others.
We are in a continual state of search of youthful Brotherhood members to step forward and take active roles.
If we all do a little, no one has to do a lot. Pure love has no boundaries.
Click on photo to enlarge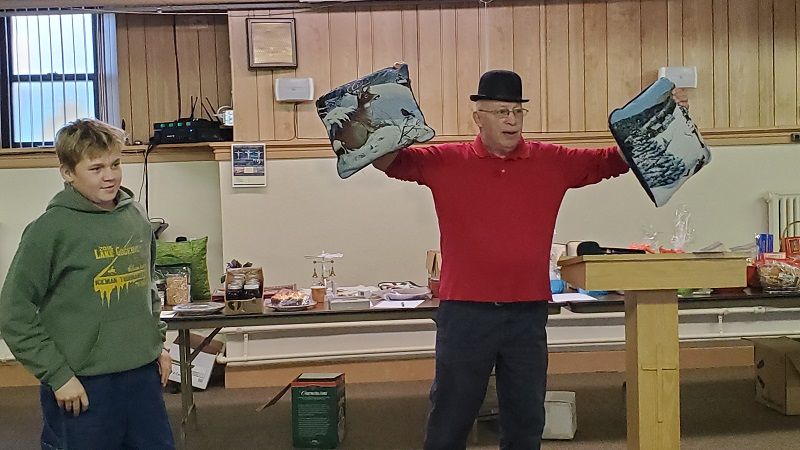 Some of the activities of St. Peter's Men's Club (Brotherhood) are: putting up a Nativity display during Advent, and installing outdoor crosses during Lent. The men continue the tradition of singing a hymn to the ladies for Mother's Day. The group has dart ball teams for fun and fellowship. God's Goodness Auction is another of its annual activities. Helping with the ice cream social. Sponsoring the popcorn sale was a means of raising funds for various organizations. A garage sale is another of its fundraising activities.